Hello everyone,
Fuelled by celebrity, Intermittent Fasting is creating a big buzz in dieting. From better weight-loss to anti-cancer claims to extending life, there's no shortage of bloggers, products, and companies looking to exploit the hype. That's where Metafact comes in. We sourced 30 independent experts on fasting, cell biology, and endocrinology to help you separate the facts from the hype.
Today I've posted a 18-minute audio version of our Member Review of Intermittent Fasting for all Verified digest subscribers to listen to. It covers the origin, basics and whether the science matches the hype. Here's what we found…
Intermittent Fasting Takeaways:
Intermittent fasting is as effective for weight-loss than other diets.

It may be easier for some to maintain - others not. There is no one-size-fits all weight loss approach.

Most studies have only been done on animals. No human evidence exists that fasting promotes autophagy and extends life.

The general hype doesn't match the science - more human studies needed. So don't believe the celebrities and wellness gurus just yet.

Don't start if you're pregnant or breastfeeding. Always speak to your healthcare professional when changing your diet.
The Intermittent Fasting Experiment
When we published our member review on Intermittent Fasting, a number of people contacted me saying they are giving it a try (mostly the 16:8 schedule). Although we found more hype than science on the majority of health claims (like killing cancer and reversing aging), experts did verify that Intermittent Fasting is as effective for weight loss as other diets, while potentially being easier to manage than other diets.
I've never dieted before but after the excess of the summer holiday period, I was curious so I started Intermittent Fasting on January 15th as an experiment. So what happened?
In general, I didn't have an insatiable urge to eat by 11am - but I did see a big increase in the number of morning espressos to distract myself from the hunger. However, my ability to keep the fasting schedule of 16hrs (8pm to 12pm next day)…become intermittent at best. Why?
The biggest problem was my chaotic work-life schedule with young kids. What happens when my partner or kids come home late (after 8pm) - should I eat before they arrive? No, I'm not going to do that... And what happens when you go out with friends for dinner and the only dinner reservation is 8:30pm?
So the experiment had to end - schedules don't work for me..If anyone has their own experience/insights, let me know in the comments below.
May the facts be with you!
Ben McNeil, Founder Metafact
---
Is organic food worth it?
March Metafact Review
Exclusive reviews for our fact-loving members.
Each month we investigate a topic voted by members by asking the world's top experts to review the evidence. Reviews are what you need to know. Read all the reviews here.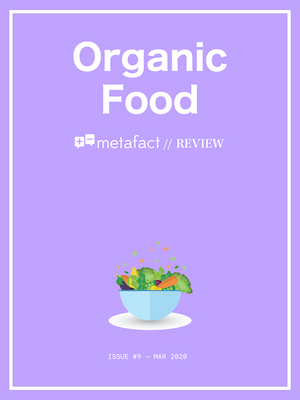 We gathered more than 20 of the world's top researchers in organic agriculture, food science, and plant biology to share the facts about Organic Food. Is organic food healthier? Is it safer to eat or better for the environment? This review gives you the latest science-backed intelligence you need to know for your next trip to the grocery store.
---
If you enjoyed this edition of Verified, consider clicking the little heart (to give it a "like"), and sharing it with a friend where they can sign-up here:
Interested in becoming a Metafact member to get more access- 

go here

.
All newsletter content subject to our 
Terms
 and 
Privacy
 policies