Discover more from Verified by Metafact
Don't get misinformed. We ask real experts to verify the facts so you can live smarter and healthier.
Over 3,000 subscribers
Why does coronavirus kill more men than women?
Hello everyone,
I hope you are safe and well. This is what I've learned from experts this week.
Sex seems to matter
The Guardian published COVID-19 data showing that men die at nearly double the rate of women in England and Wales (see figure below).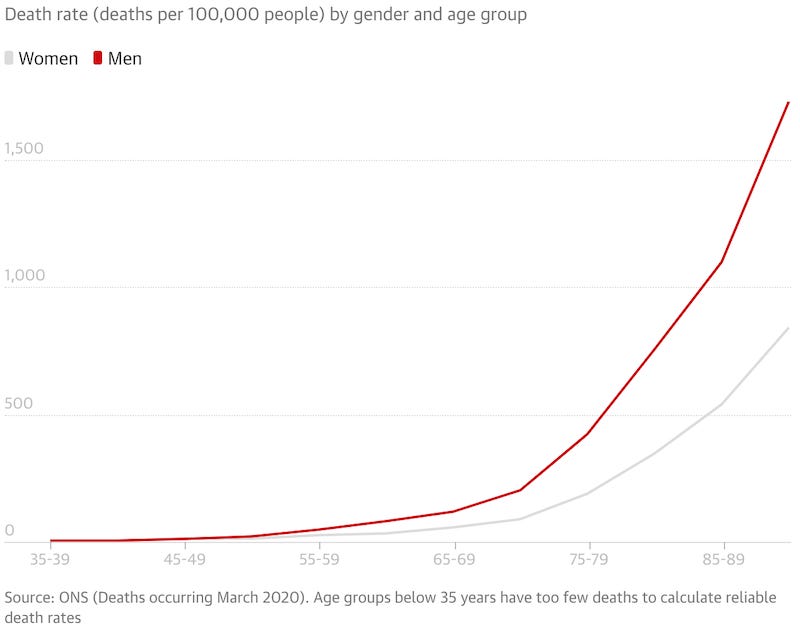 This confirms early reports from China, while other reports show a higher infection rate for men (~60/40 male/female ratio) - something observed in Italy too. A number of studies on the SARS and MERS coronaviruses outbreaks also found higher infection and death rates for males. Why are men more at risk to coronaviruses?
Philip Goulder is Professor of Immunology at Oxford University who writes in detail on Metafact about the factors that could help explain this trend:
1) The power of the X chromosome
It is becoming increasingly recognised that there are substantial differences in the immune system between males and females and that these have significant impact on outcome from a wide range of infectious diseases. The immune response throughout life to vaccines and infections is typically more aggressive and more effective in females compared to males.

Several factors contribute to this, but these include the fact that females have two X chromosomes compared to one in males, and a number of critical immune genes are located on the X chromosome. In particular, the protein by which viruses such as coronavirus are sensed is encoded on the X chromosome. As a result, this protein is expressed at twice the dose on many immune cells in females compared to males, and the immune response to coronavirus is therefore amplified in females.
Here is one detailed study many experts cite describing how women "are less susceptible to many infections of bacterial, viral, parasitic, and fungal origin and malignancies". However, the downside is that women "are more prone to develop autoimmune diseases".
2) Men smoke more than women, adding to their risk
Globally, more than one-third (35%) of men in the world smoke, while just over 6% of women do. The degree to which males smoke more varies depending on the country. In China for example, in 2016, ~50% of men smoke compared to just ~2% of women while in the UK, 25% of men smoke in comparison to 20% for women. These differences may be another factor to help explain the greater risk of COVID-19 for males, writes Professor Goulder.
Apart from the immune sex differences that impact on mortality from infections such as coronavirus, there are important behavioural differences between the sexes, for example in smoking, which affect the level of pre-existing disease such as heart disease, chronic lung disease and cancer. These have a huge impact on the outcome from infections such as coronavirus.
Seems like another good reason to stop smoking!
Stay safe and may the facts be with you.
Ben McNeil, Founder of Metafact
---
Does Vitamin C help our immunity?
April Metafact Review
Exclusive reviews for our fact-loving members.
Each month we investigate a topic voted by members by asking the world's top experts to review the evidence. Reviews are what you need to know. Read all the reviews here.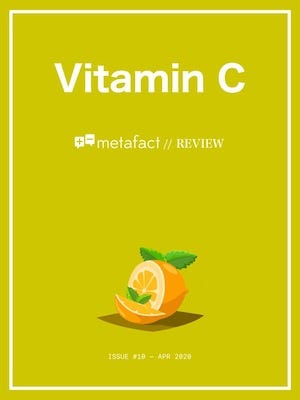 We asked 15 vitamin C experts to share the facts. Does Vitamin C help with colds or coronavirus? Are there real health benefits? Do I really need to take supplements? This review gives you the latest science-backed intelligence you need to know on this essential vitamin.
---
Like us please!
At the top of this email, under my name, there is a tiny little heart ❤️. Please consider clicking that and "like" this newsletter. If you do, it'll help move Verified to the top of Substack and make it more visible to more people to learn the facts. Thank you!
Also, you can share this with a friend where they can sign-up here:
Interested in becoming a Metafact member to support us and get more access- 

go here

.
All newsletter content subject to our 
Terms
 and 
Privacy
 policies