Discover more from Verified by Metafact
Don't get misinformed. We ask real experts to verify the facts so you can live smarter and healthier.
Over 3,000 subscribers
How much water do you need?
Metafact Digest #7
Hello everyone,
We've had some great questions come in on Metafact - with some insightful responses from top experts. Here are some things I've learned for this week:
You don't need 8 glasses of water each day
"Drink 8x8 ounce cups (~2 litres) of water a day to be healthy" - that's the general advice we have heard many times. Is that true? Can we get enough water from food/diet alone? Great question. Dr Nick Ashton, a kidney expert from the University of Manchester writes an insightful answer for us, breaking down what we need to know.
The average person each day:
Loses ~2.5 litres of water via urine, breathing, sweating and pooing.

Generates ~1.3 litres of water in food and via metabolic processes

That leaves ~1.2 litre water deficit to make up to stay in balance.
But we don't need to drink water to make up the deficit says Dr Ashton.
Any beverage will provide you with water…Tea, coffee, fruit juice, soft drinks, beer: all provide the fluid that you need.
So the takeaway is that food cannot supply us with all our daily water needs. But we don't need to drink the 1.2 litres (40ounces) from glasses of water, particularly if you drink alot of coffee or tea like I do. (Read Dr Ashton's full answer here)
Don't freak out over burnt toast or roast potatoes
As an Australian, I grew up on vegemite toast (my US friends are cringing right now) and mums roast potatoes. So when I heard about media reports linking burnt toast and roast potatoes to cancer, I got worried. So we asked 5 experts and have just published a consensus article here. Here's the short summary:
Burnt toast and other foods that have been blackened from cooking, produces a chemical called acrylamide which in animal studies has been linked to cancer, but so far not in humans. The risk of cancer from eating burnt toast appears exceedingly low when compared to other much more lifestyle factors.
Depite the lack of human evidence so far, a World Health Organisation expert panel in 2005 suggests we should reduce our exposure to acrylamide. So as a precaution, how?
Aim for a yellow or golden-brown colour when frying, roasting or baking food

Toast bread or other foods to the lightest colour acceptable to your taste, noting that the crust will have higher levels of acrylamide

Avoid keeping potatoes in the fridge before cooking them, as this can further increase acrylamide levels

Soak potatoes in water for 15-30 minutes, or blanch in boiling water before frying or roasting. This reduces the components that promote acrylamide formation

Follow cooking instructions on food packages to avoid overcooking.
There are thousands of things linked to cancer, so risk needs to be put into perspective and for burnt toast, the risk is very small, if at all. The important things to focus on are eating a healthy diet, being more active and drinking less alcohol and not smoking. (Read our full consensus article here)
Lie detectors don't work on psychopaths
In the hit US television series Homeland, it seemed like every second episode had the CIA using a polygraph or lie detector test to interrogate potential terrorist suspects. Hollywood loves to use them in crime dramas. I've always wondered if they really work, so I was interested to learn from 6 experts who 100% said that lie detectors are not the best way to extract the truth from someone. The problem it seems is that you have to be moral enough to feel uncomfortable about lying for abnormal readings to show on the test. Professor Guy Madison from Umeå University in Sweden, with expertise in behavioral testing, points out that lie detectors:
dont typically work for sociopaths or psychopaths
That's a worry! (Read his full answer here)
Notes and Reminders
Thanks to everyone who has suggested future topics for us to review. At any time you can share your own here. This month's poll is too close to call between a number of topics - remember to cast your vote here.
For those many new subscribers, welcome. If you haven't listened to my launch podcast (Google is not your doctor!) about what Metafact is and the evolution of the project, you can listen to that here or on Spotify here. It sets out our mission and what to expect from us.
May the facts be with you!
Ben McNeil, Founder
---
Metafact Review
Exclusive reviews for our fact-loving members. Interested in joining to support us - go here.
Each month we investigate a topic voted by members by asking the world's top experts to review the evidence. Reviews are what you need to know. Read all the reviews here.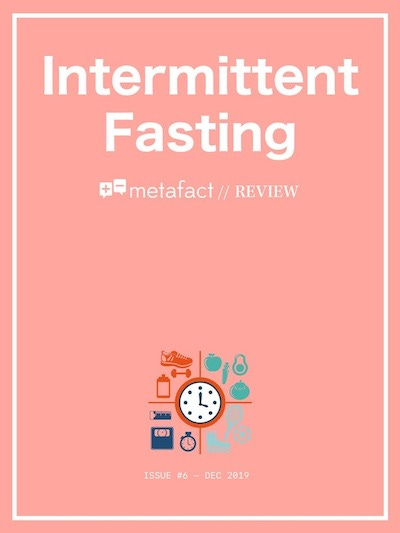 We gathered more than 30 of the world's top researchers in fasting, cell biology and endocrinology to share the facts about Intermittent Fasting. From it's effectiveness for weight-loss to whether it helps reduce chronic disease and promote longevity, this review gives you the latest science-backed intelligence you need to know.
---
Member Announcements:
I'm still in the early days of iterating the content for this weekly digest. Please give me feedback on what you like and what you don't like (send it to ben@metafact.io)

REMEMBER TO VOTE HERE! It's really important that we are investigating topics you care about. The December poll is open: Go vote here!!
---
If you enjoyed this edition of Verified, consider clicking the little heart (to give it a "like"), and sharing it with a friend where they can sign-up here:
All newsletter content subject to our 
Terms
 and 
Privacy
 policies