Discover more from Verified by Metafact
Don't get misinformed. We ask real experts to verify the facts so you can live smarter and healthier.
Over 3,000 subscribers
Does Hydroxychloroquine work?
We asked experts to review the evidence..
Hello everyone,
I hope you are safe and well. Doctors and scientists around the world are busy exploring potential treatments for COVID-19, before a vaccine emerges in the months ahead. One way to do that is to use existing drugs that have been tested and approved by government authorities for other medical conditions, to see if they help with treating COVID-19. Hydroxychloroquine is one such drug that has received alot of attention over the past month, largely due to President Donald Trump sharing tweets like this:
To help us review the evidence so far, I asked Dr Rebecca-Ann Burton, who is a clinical pharmacologist from Oxford University who has published research on the effects Hydroxychloroquine on the heart. Dr. Burton has provided us with a detailed answer here on Metafact. It's technically dense so here is a brief summary:
What is Hydroxychloroquine (HCQ)?
HCQ has been around since the 1950's and has shown utility in a number of disease conditions including the treatment of rheumatoid arthritis (RA) and Systemic Lupus Erythematosus (SLE), with a good safety profile including the prescription to pregnant women at appropriate doses.
Dr Burton shares details on how HCQ has been found to be useful for the treatment of irregular heart conditions and heart disease for rheumatoid arthritis patients. However, she makes the point that:
Whilst these effects may be beneficial in some conditions, it must be borne in mind that higher doses [of HCQ] may become a safety risk in different patient cohorts especially severely ill patients.
What about for COVID-19, what's the evidence so far?
On COVID-19, Dr Burton says the evidence is uncertain:
Studies have shown some benefits and risks… Data is limited and inconclusive… At this moment, clear experimental evidence is still lacking around the question of human safety and efficacy of HCQ in treating the virus SARS-CoV-2 that causes COVID-19.
The paper President Trump mentioned in his tweet was presumably the French study here by Gautret et al published on March 20. Dr Burton said we need to be cautious given it was done on a "very small cohort of patients (26)":
Gautret et al. 2020 published their recent open label, non-randomised trials on HCQ and Azithromycin (AZ) as a treatment of COVID-19. Whilst the outcomes reported in this paper, may appear to indicate a favourable effect on clinical outcomes (i.e. HCQ treatment is significantly associated with viral load reduction/disappearance in COVID-19 patients and its effect is reinforced by AZ), the major limitations must be borne in mind when interpreting the results from this very small cohort of patients [26 patients received HCQ (of which 6 HCQ patients were lost in follow up) and 16 were control patients].
Potential to increase risk of sudden cardiac death
Dr Burton highlighted the emerging evidence that seems to point to a higher risk of sudden cardiac death with HCQ:
On April 3rd, Chorin et al. uploaded a paper on MedRxiv, based on a retrospective study performed at NYU Langone medical center, where they report a change in the QT interval in 84 adult patients with SARS-CoV-2 infection treated with HCQ/AZ combination. Here they found that the patients treated with HCQ/AZ QTc prolonged significantly; 11% of patients, QTc prolonged to >500 ms, a known marker for high risk of malignant arrhythmia and sudden cardiac death.
COVID-19 seems to affect the heart (e.g. myocarditis), which may additionally increase the risk of cardiotoxicity, more detailed research is required to confirm the effect of COVID-19 on the heart.
"Nowhere near ready for primetime"
Professor Euan Wallace from Monash University published a study reviewing whether hydroxychloroquine could treat a condition called preeclampsia. He confirmed Dr Burton's conclusion in his answer to us:
The short story is that there is NOT good evidence that hydroyxchloroquine (HCQ) is an effective treatment for COVID-19 and it may cause harm. Certainly HCQ is nowhere near ready for primetime.
On Tuesday, an expert panel from the National Institutes of Health (NIH) released new COVID-19 treatment guidelines that did not recommend hydroxychloroquine, citing "insufficient clinical data". Overall they state clearly "At present, no drug has been proven to be safe and effective for treating COVID-19".
The good news is that there are many larger controlled trials going in the United States, Europe and China that will give researchers a clearer picture of hydroxychloroquine and other potential treatments.
Stay safe and may the facts be with you!
Ben McNeil, Founder of Metafact
---
Does Vitamin C help with coronavirus?
April Metafact Review
Exclusive reviews for our fact-loving members and supporters.
Each month we investigate a topic voted by members by asking the world's top experts to review the evidence. Reviews are what you need to know. Read all the reviews here.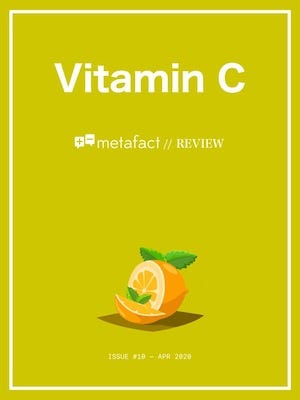 We asked 15 vitamin C experts to share the facts. Does Vitamin C help with colds or coronavirus? Are there real health benefits? Do I really need to take supplements? This review gives you the latest science-backed intelligence you need to know on this essential vitamin.
---
Like us please!
At the top of this email, under my name, there is a tiny little heart ❤️. Please consider clicking that and "like" this newsletter. If you do, it'll help move Verified to the top of Substack and make it more visible to more people to learn the facts. Thank you!
Also, you can share this with a friend where they can sign-up here:
Interested in becoming a Metafact member to support us and get more access- 

go here

.
All newsletter content subject to our 
Terms
 and 
Privacy
 policies