Discover more from Verified by Metafact
Don't get misinformed. We ask real experts to verify the facts so you can live smarter and healthier.
Over 3,000 subscribers
Could we feed a world of vegetarians?
Metafact Digest #8
Hello everyone,
We've had some great questions come in on Metafact - with some insightful responses from top experts. Here are some things I've learned for this week:
Feeding 10 billion vegetarians?
Veganism is growing. From Hollywood awards going vegan to Burger King Meatless burgers, plant-based products & diets are becoming more mainstream in popular culture. On health, there is still big debate amongst Metafact experts on whether vegan diets are best for overall health. But in comparison to typical Western diets:
Certainly, if the population at large followed a purified vegan diet plan rather than a typical Western diet, we would be much healthier as a nation. 
writes Professor Richard Bloomer, nutrition expert from the University of Memphis
By 2050 there will be ~9.7billion people on earth. The average person in the United States eats 2,000 pounds or nearly 1 tonne (900kg) of food each year. The quantity of food needed by 2050 is immense! I'm an omnivore but I've always wondered what would happen if the world magically switched to become vegetarian? One member asked a great question on whether it would be possible to feed the world if everyone was vegetarian?
Unless there is a disastrous failure in crop production, it is near certain that there is enough food in the world to feed everyone a vegetarian diet.
writes Professor Nick Hewitt, Environmental Scientist from Lancaster University.
Prof Hewitt writes how inefficient the meat/food system is. Meat production for example, gives the world 18% of global calories yet "relies on feeding 34% of human-edible crop calories to animals globally" which makes it "highly inefficient in terms of the provision of human nutrition, since it reduces the energy, protein, iron and zinc supplies potentially available to humans from crops" says Hewitt.
But can all the food we feed to animals be eaten by humans? A recent FAO study found that "86% of livestock feed is not suitable for human consumption". I need to investigate this further with many more experts to verify the facts. In any case, it seems like a big topic, so I will add 'Veganism' to the list of Member Reviews for the coming months. So stay tuned for that.. (Read Prof Hewitt's full answer here)
Darker alcohol likely to give us worse hangovers
As I wrote earlier in the year, one of the things I've learned from Metafact medical experts is to cut down on alcohol. Despite all of my best efforts, there are inevitable celebrations or random nights with friends where I(we) drink too much, get drunk and wake up with a hangover. Hangovers seem to get worse with age, so if there is anything we can do to help, we should find out from science. So I was interested when a member asked whether darker alcohol (red wine, bourbon, brandy, whisky etc) causes worse hangovers than lighter alcohol (vodka, gin etc).
Congeners are complex organic molecules made up of toxic chemicals including acetone, acetaldehyde, fusel oil, tannins and furfural. Darker alcoholic drinks contain higher amounts of congeners. Bourbon, for instance, has 37-times the amount of congeners compared to vodka. Based on our consensus, studies have verified that darker alcohol seems to increase the likelihood and severity of hangover symptoms the next day. The effect of congeners though is only part of the hangover story because alcohol and its metabolites also have toxic effects no matter what your tipple. Still, I might stick with gin & tonics from now on when drinking. (Read our full consensus article here)
Notes and Reminders
Thanks to everyone who has suggested future topics for us to review. At any time you can share your own here. This month's poll is too close to call between a number of topics - remember to cast your vote here.
For those many new subscribers, welcome. If you haven't listened to my launch podcast (Google is not your doctor!) about what Metafact is and the evolution of the project, you can listen to that here or on Spotify here. It sets out our mission and what to expect.
May the facts be with you!
Ben McNeil, Founder
---
Metafact Review
Exclusive reviews for our fact-loving members. Interested in joining to support us - go here.
Each month we investigate a topic voted by members by asking the world's top experts to review the evidence. Reviews are what you need to know. Read all the reviews here.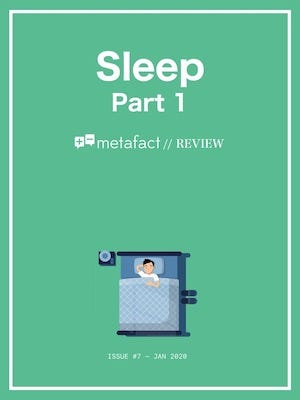 We gathered more than 50 of the world's top researchers in neuroscience and sleep research to share the facts about sleep and health. How much sleep does science recommend? What can a lack of sleep cause? Can you die from a lack of sleep? Can you get too much sleep? This review gives you the latest science-backed intelligence you need to know on sleep and health.
---
Member Announcements:
Our next review to be published in February is Part II of our review on Sleep - focusing on methods and approaches to getting a better night's sleep.
I have again started recording audio to allow members to listen to our content and reviews which I will begin publishing them next week. I will plan to have a members-only section of this newsletter that includes these later in the year. Please give me feedback on what you like and what you don't like (send it to ben@metafact.io)

REMEMBER TO VOTE HERE! It's really important that we are investigating topics you care about. The January poll is open: Go vote here!!
---
If you enjoyed this edition of Verified, consider clicking the little heart (to give it a "like"), and sharing it with a friend where they can sign-up here:
All newsletter content subject to our 
Terms
 and 
Privacy
 policies