Discover more from Verified by Metafact
Don't get misinformed. We ask real experts to verify the facts so you can live smarter and healthier.
Over 3,000 subscribers
Are my groceries putting me at risk for coronavirus?
Hello everyone,
I hope you are healthy and well. Lots of people are sharing scary claims about how coronavirus gets spread via your groceries, from the reusable shopping bags to fruits & vegetables. Some outlets are even advising us to wash your fresh produce with soap.
To get the facts, I asked Professor Donald Schaffner, a top microbiology expert on food science and safety from Rutgers University who researches this exact topic. From the risk of reusable bags to the idea of leaving your grocery on the porch for 3 days, Professor Schaffner answers many of your grocery questions in one long answer here. Here are some important other takeaways I learned from him:
Washing your fruit & vegetables with soap, 'not a good idea'
There's a bunch of people out there recommending you wash your fresh produce with soap. This is not a good idea.

Soap is not designed for food. It's for washing hands not for use on food. Soap can cause nausea, vomiting and diarrhea if ingested. Current recommendations by scientific experts including the FDA, say to wash fresh fruits and vegetables in cold water. 
He shares the evidence in his full answer here.
You don't need to use warm or hot water to wash hands.
Professor Schaffner studies the effectiveness of hand-washing and the good news is that cold water is just as effective.
Research in my lab and other labs have shown that water temperature doesn't matter. It can be cold, it can be hot, or it can be warm. Use a water temperature that is comfortable.
So what? That means you can stay safe while keeping heating bills down and saving the planet too (saving water, energy and carbon emissions via unnecessary heating). He shares the most effective method for washing your hands in his full answer here.
How to reduce your virus risk when grocery shopping?
Many grocery stores are offering hand sanitizers at the entrance, and are offering to sanitize grocery carts. Both great ideas, and customers should take advantage if available.

My other advice is to make a list, and know what you want, and move quickly and efficiently through the store picking out the items on your list.

Practice appropriate social distancing, trying your best to keep 6 feet away from other shoppers. If there is hand sanitizer available, I also use it when I'm exiting the store, and then I'll use it again at home once I finished putting all my groceries away and returning my reusable shopping bags to the car.
Professor Schaffner graciously answered lots of questions on food and coronavirus, you see them all in his profile here. Metafact is committed to spreading open expert-backed answers - so you can publish, quote and share them wherever you like.
Stay safe and may the facts be with you!
Ben McNeil, Founder of Metafact
---
Is organic food worth it?
March Metafact Review
Exclusive reviews for our fact-loving members.
Each month we investigate a topic voted by members by asking the world's top experts to review the evidence. Reviews are what you need to know. Read all the reviews here.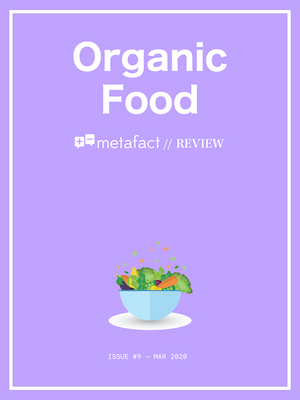 We gathered more than 20 of the world's top researchers in organic agriculture, food science, and plant biology to share the facts about Organic Food. Is organic food healthier? Is it safer to eat or better for the environment? This review gives you the latest science-backed intelligence you need to know for your next trip to the grocery store.
---
If you enjoyed this edition of Verified, consider clicking the little heart (to give it a "like"), and sharing it with a friend where they can sign-up here:
Interested in becoming a Metafact member to support us and get more access- 

go here

.
All newsletter content subject to our 
Terms
 and 
Privacy
 policies