Discover more from Verified by Metafact
Don't get misinformed. We ask real experts to verify the facts so you can live smarter and healthier.
Over 3,000 subscribers
Are grateful people happier?
Hello everyone,
I hope you are safe and well. Gratitude journals are everywhere. My kids write in them every night and I think it's very important for everyone to have wider perspective on how lucky we are. But is their evidence that gratitude journals make us happier?
I wanted verify this, so I asked clinical psychologist David Cregg from Ohio State University who specifically studies gratitude interventions and happiness. His answer is really interesting and was somewhat unexpected.
Is being grateful linked to happiness?
Yes he writes, but it's very important to understand that correlation ≠ causation:
As anyone who has taken a statistics class knows, just because two things are correlated with each other, it does not mean that one thing CAUSES the other thing. For example, ice cream consumption and shark attacks might be correlated... But it would be wrong to conclude that eating ice cream makes a shark more likely to attack you (or the equally absurd opposite - that getting attacked by a shark makes you get a hankering for ice cream). Instead, it is more likely that when it's hot outside, people are more likely to go to the beach AND they are more likely to eat ice cream to cool off, hence why eating ice cream and shark attacks coincide with each other.
Keeping this in mind there is clear evidence that gratitude is CORRLEATED with happiness writes Cregg:
For example, this 2010 study outlined evidence that gratitude is correlated with a number of things that people commonly associate with happiness, such as having more positive emotions and greater life satisfaction. And in longitudinal research (meaning a study that occurs over a long period of time), having more gratitude predicted having greater life satisfaction over time and vice-versa.
Does expressing more gratitude make me happier?
So it seems that when people are more grateful, they also seem to be happier. The tricky part writes Cregg is when people start to wonder, "If I begin to express gratitude more often, will that make me a happier person?"
People might take up a "gratitude intervention," such as a gratitude journal, in the hope that it will make them happier. But the truth is that we currently don't have much evidence that doing gratitude exercises will CAUSE increases in happiness.
In 2017 Dr. Leah Dickens published a meta-analysis on gratitude interventions that showed these exercises have only a small effect on improving happiness. They're better than doing nothing, but it's a relatively small improvement….I am almost certain that people who are more grateful are happier, but that does not necessarily mean that expressing gratitude will cause improvements in happiness.
Express gratitude because of who you are, not to seek happiness
The truth is, we don't know exactly why grateful people are happier - are they grateful because they're so happy? Are they so happy because they're grateful? Is it something else entirely about grateful people that makes them happier (such as spiritual or religious involvement)?

These are questions researchers are still trying to answer, but as of right now the data would suggest that if you are attempting to express gratitude to be happier, you are not likely to see a huge improvement. Instead, I would recommend that people express gratitude because it's part of their innate values, not because it will make you happier.
The winner is 'Anti-Ageing'
Last month 'Anti-ageing' was the clear winner in our member poll with over 50% of the vote. Next month our member review will be on Vitamin D. It's really important that we are investigating topics you care about: Go vote here for the next poll!! If you want to add a topic to one of our polls - you can always send me a comment here.
Stay safe and may the facts be with you!
Ben McNeil, Founder of Metafact
---
How to break a bad habit?
Metafact Review
Exclusive reviews for our fact-loving members. You can become a member here.
Each month we investigate a topic voted by members by asking the world's top experts to review the evidence. Reviews are what you need to know. You can read all the reviews online here.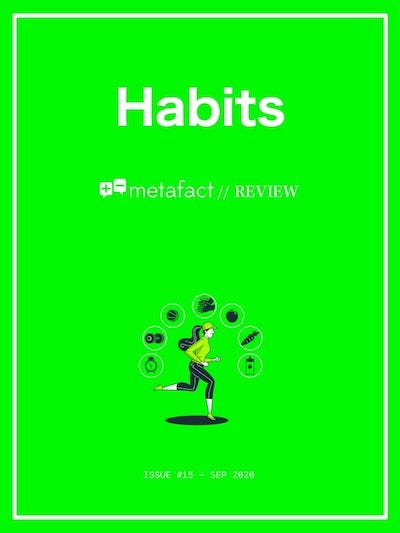 We asked 20 neuroscientists to help us understand the science of habits. How do habits form? Methods to break bad habits? How to form good ones? Do habit-based interventions work for weight-loss? This science-backed guide will help you understand how to make changes to habits in your life.
---
If you enjoyed this edition of Verified, consider clicking the little heart (to give it a "like"), and sharing it with a friend where they can sign-up here:
Interested in becoming a Metafact member to support us and get more access- 

go here

.
All newsletter content subject to our 
Terms
 and 
Privacy
 policies