Discover more from Verified by Metafact
Don't get misinformed. We ask real experts to verify the facts so you can live smarter and healthier.
Over 3,000 subscribers
Are artificial sweeteners bad for you?
Hello everyone,
Here's what I have learned from the experts on Metafact this week:
Diet drinks are worse than water, better than sugar
Artificial sweeteners have been around since 1897. Much sweeter than sugar but without the calories, products like Equal, Splenda, Sweet'N Low, and the numerous diet drinks have been consumed by billions of people. The internet is full of sites claiming the hidden dangers of artificial sweeteners from headaches to cancer. Is that true? Should we start switching back to regular sugar-based soda drinks?
I asked Gideon Meyerowitz-Katz, an epidemiologist from the University of Wollongong specializing in diabetes:
There are some health concerns about artificial sweeteners. There is a worry that artificial sweeteners, while somewhat inert in the body, may influence a variety of hormonal and other bodily functions. There are also some epidemiological findings suggesting that people who have a higher intake of artificial sweeteners are less healthy than those who have less (usually in relation to soft drinks with sweeteners).
However.
While there may be some questions about sweeteners, there is certainly no suggestion that they are worse for people than sugar itself. It's possible that artificial sweeteners might be worse for people than water - although this is something of an open question - but compared to sugar, all indications are that artificial sweeteners are probably a bit better for obesity and metabolic disease.
He also shared 9 key takeaways from a thorough 2019 scientific review of the health effects of artificial sweeteners:
Sweeteners are better for weight loss than sugar

Sweeteners may reduce blood pressure in people at risk

Sweeteners may help obese people lose weight

No evidence that sweeteners cause cancer

No evidence that sweeteners make you hungrier/eat more

No evidence that sweeteners cause kidney disease

No evidence that sweeteners cause headaches

No evidence that sweeteners are bad for kids

Some evidence that sweeteners help kids to avoid obesity
The weight of evidence hints at health benefits, but the true picture is yet to emerge as the studies that have looked into artificial sweeteners are mostly short-term and low-quality. So I then asked one of our nutrition scientists:
From the current evidence, I would recommend to reduce the intake of both natural and artificial non-caloric sweeteners as part of a well-balanced nutritious diet and not merely replace natural sugars with artificial sweeteners.
Dr Cornelie Nienaber-Rousseau a nutrition scientist from North-West University
Is there a self-made millionaire gene?
Up to 17% of people suffer from dyslexia, the learning difficulty billionaire Richard Branson says gave him an advantage. In 2017 Branson also tweeted that '40% of the world's self-made millionaires have dyslexia':
Yet with all the success stories we hear, there are huge numbers of people who struggle, with dyslexia being a road-block to their life. A close friend of mine struggled at school and turned to drugs - with his early undiagnosed dyslexia no doubt playing a part. So I was interested when someone asked Metafact whether dyslexia is genetic. We had 4 verified experts share answers unanimously confirming the importance of genetics.
Up to 80% of dyslexia is heritable from your family, writes neuroscientist Dr Lisa Gabel while Dr Dorothy Bishop from Oxford University writes:
Developmental dyslexia runs in families, and twin studies have confirmed that there is a substantial genetic contribution to poor reading
So if we assume dyslexia is linked to self-made millionaires and dyslexia is caused by genetics, there must be a self-made millionaire gene right?
No. That's one of the many logical fallacies we can easily fall into (this one would be the association fallacy).
Detecting these types of click-bait headlines/associations is very important as we navigate the volumes of news and health claims made on the internet. I was thinking of writing a book about the simple tricks and methods we can all use to get better at finding the truth on the internet. Thoughts? Are there books out there on this you've read? Leave any comments below.
Notes and Reminders
Our March Member review is on 'Organic Food' and will be published next week. Members, look out for it in your inbox. It's been fascinating for me to investigate the claims around organic food with many top global experts. I can tell you that I have now switched my buying habits after doing this review. If you aren't a member yet and want full access to our reviews when they come in, you can join here.
LAST DAY TO VOTE! This month's member poll is tied between many topics. It's really important that we are investigating topics you care about: Go vote here!!
Stay well and May the facts be with you!
Ben McNeil, Founder Metafact
---
How to get better sleep?
February Metafact Review
Exclusive reviews for our fact-loving members.
Each month we investigate a topic voted by members by asking the world's top experts to review the evidence. Reviews are what you need to know. Read all the reviews here.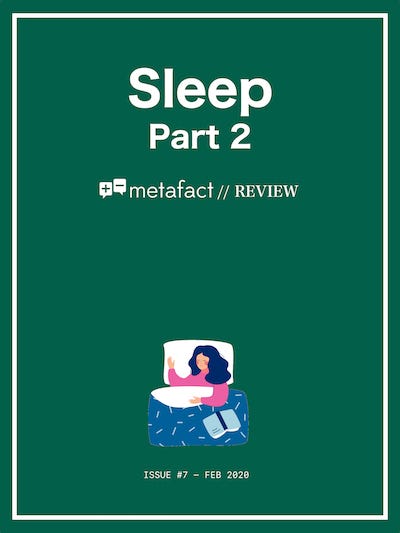 We gathered more than 50 of the world's top researchers in neuroscience and sleep research to share the facts about insomnia and ways to get better sleep. From finding out about the optimal sleep environment, using sleeping pills, diet, therapies or having a night-cap, this review gives you the latest science-backed intelligence you need to know to get better sleep.
---
If you enjoyed this edition of Verified, consider clicking the little heart (to give it a "like"), and sharing it with a friend where they can sign-up here:
Interested in becoming a Metafact member to get more access- 

go here

.
All newsletter content subject to our 
Terms
 and 
Privacy
 policies